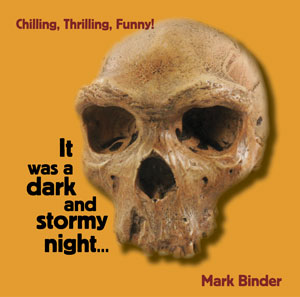 It was a dark and stormy night
Spooky Comedy Spoken Word

by Mark Binder
Some violence and gruesome detail. Parental guidance: If the cover bothers you, don't buy it. .
Recorded live!


Vampires… Corpses… Mangled Harry Potter…

TV Deprogrammer — a modern fable
It Ate My Sister — autobiographical
Hairy Fingers — a classic… with a twist
Old Scratch Nickels — modern revenge
The Monkey's Paw — montypythonesque
Death of Harry Potter — infamous!
Haunted Playground — autobiographical
Sarah's Stake – a girl and her vampire
60 minutes. Perfect for keeping the peace on car rides...
Recorded live at Knotty Oak and Horrible Mann
Buy It was a dark and stormy night From